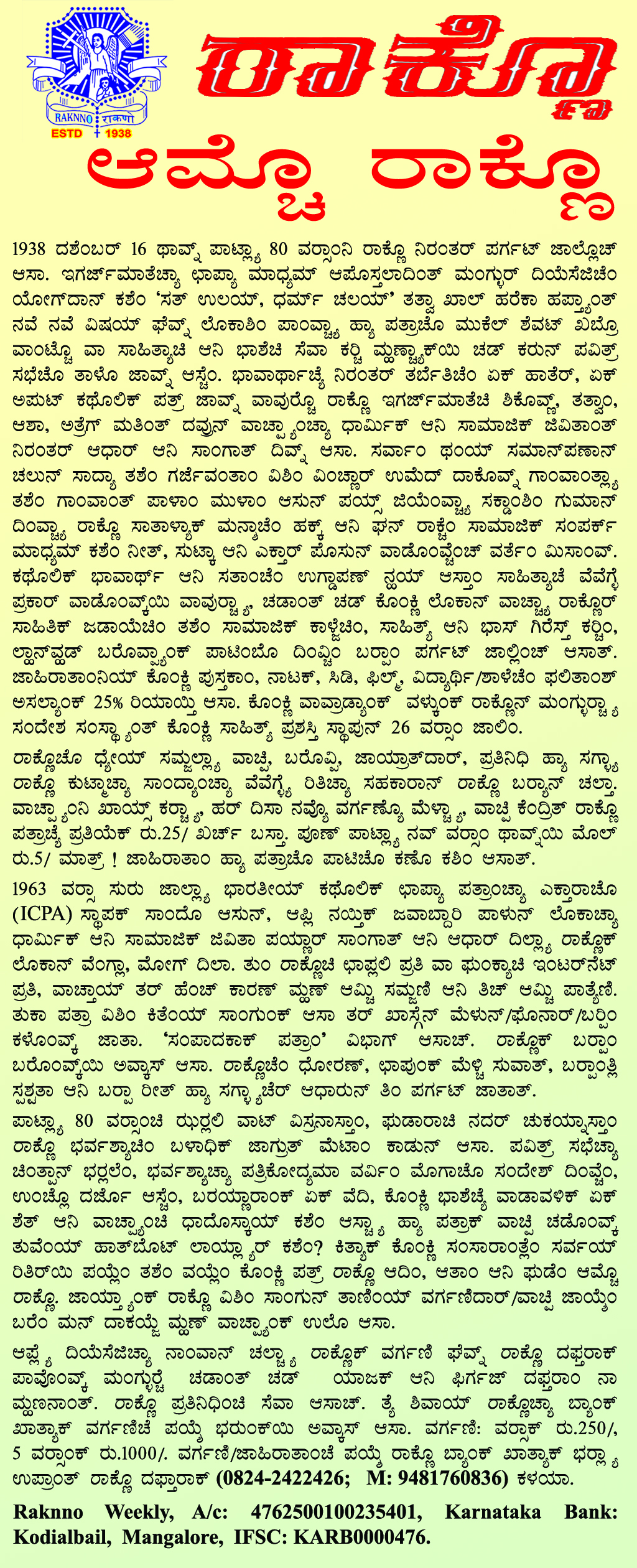 RAKNNO WEEKLY
RAKNNO WEEKLY @ 80 (updated on 15.9.2018)
RAKNNO AS PULSE OF THE SOCIETY
Informing, Educating and Entertaining – this is the role of every media, and 'Raknno' though being a Konkanni Weekly by nature has strived to keep its readers abreast with the times. The last two decades have been specially significant for Raknno, by publishing a variety of articles, news-features, news-analysis and media criticism, it has gained the loyalty of the people.  Raknno has stolen the show by its sensible and wide coverage on agricultural, scientific, medical, legal, economical, political, religious, cultural, educational, social and career guidance issues. Constant innovation and creativity have been Raknno's forte. Thoght provoking Articals, humour, satire, serialized novels, short stories and special pages for children, youth and women have been promoting literature and the habit of reading. It is recognized by number of  institutions and associations for its mission of awareness through magazines and  promotion of language and literature. It is recognized by institutions like Akhil Bharath Konkanni Parishad Goa, Dr T. M. A. Pai Foundation Manipal, Karnataka Konkanni Basha Mandal  etc. It has been honored by the South Kanara District Administration with 'Jilla Rajyotsava Prashashthi' in 2007 for the cause of promotion of literature. Recognizing its contribution Raknno was honoured in 2015, by Dr.Shivaram karanta Research and Study Association (R),Kota,Udupi District, and in 2016 by Kannada News Weekly, Pingara, based in Mangalore.
A PUBLICATION CALLED RAKNNO
As a publishing house, Raknno has been publishing both fiction and non – fiction books (titles).  Having 120 titles and 2 CDs with devotional hymns to its credit till date, it has tried to give knowledge on variety of issues through  Konkanni books in Kannada script. "Kanun Darshan" a book on legal awareness by Mr Shirthady William Pinto published by Raknno in June 2006 has seen a record sale with 4 editions within a span of 4 months.  6th edition was published in November 2009.
RAKNNO TODAY
Raknno has grown from strength to strength with increase of staff both in the office and in the field.  Raknno experiments, novel ways and means to reach more and more readers with quality information, awareness and entertainment. It is the largest read Konkanni Weekly of the entire Konknno world.
Two things have shaped the course of Catholic Christians in the Diocese of Mangalore:  First, the Eucharistic congress held in 1938 and the second Raknno, the Weekly started to commemorate the same event, in the very same year.  Started by Msgr Sylvester Menezes, this Weekly has grown to become the mouth piece of the Konkanni people representing their thoughts, feelings, hopes and aspirations. Today, it is the largest circulated Konkanni Weekly world over. Raknno has broken all barriers of caste, creed and community by its approach through modern responsible journalism. Raknno today enjoys three distinct dimensions, that of an Institution, a News Paper and a Publication with wide reachout to konknnis worldover.
AN INSTITUTION CALLED RAKNNO
From a modest beginning 'Raknno' grew steadily for the past 80 years.  In this course 'Raknno' has transformed from a mere Weekly newspaper to a powerful institution among Konkanni speaking world.  Raknno further has scaled new heights in Konkanni Journalism & social commitment. The 20,000 Brochures published by Raknno created awareness among people about the Land Reforms Act introduced in 1973.  It promoted Relief Funds in aid of the victims affected by floods, Kargil, tsunami etc.  These and other similar trend setting examples affirm Raknno's commitment to social causes affecting people.  All through Raknno has been the official voice of  catholic Church of Mangalore and the Konkanni people.
Raknno became the first Institution to systematically take up the challenge of training young budding writers. Journalism in Konknni has been defined by Raknno and its professional outlook. In fact Raknno has been Instrumental in the flowering of fresh talents in Konknni.  Often Raknno has joined hands with Sahitya Akademi New Delhi as well as other regional literary institutions as to organize literary fiestas. In 2007 Raknno has instituted the 'Raknno Journalism Scholarship' through which it gives annual scholarships to students who do post graduation in Journalism through any regular  university.
WWW.RAKNNO.NET
The Raknno was on the web in the year 1998.  Now it is available on www.raknno.net free of cost.
RAKNNO PLATINUM JYBILEE:
2012-'13 was the Jubilee year for Raknno which started its publication in 1938 December. Most Rev. Aloysis D'souza ,the Bishop of Mangalore Diocese was the president of the inaugural programme of the Jubilee year, held on 22.12.2012. Various activities like Writers conventions and training, convention of Editors of all Konknni periodicals and the Parish bulletines, various Literary competitions, Etyel Sahityavalokan (evaluatory veiw at the literary works of  writer late Mr.A.T.Lobo), Media awareness programmes, Publication of books, study of journalistic history of Raknno, Exhibition of books and magazines, Readers' survey, etc., were held troughout  the Jubilee year.
Jubilant Platinum Finale was held on 15th December 2013, with an Eucharistic celebration and a formal programme at Bendur, Mangalore. Rev. Fr. Mark Walder was honoured with the Platinim puraskaar (Raknno Literary Life time award to a senior konkanni writer), with felicitation together with cash award of Rs.50,000/ during the Jubilee finale function.
Raknno brought out a multi coloured  Platinum Jubilee Special Souvenir (Magazine) accomodating articles and information with indepth research and different issues.
Of  late Raknno has conducted a series of trining programmes on konknni orthography for the writers,editors,type setters and others. A writers meet was held in 2017 to bring together all konknni writers who are young and old spread all over. A serial Bible quiz going on presently has inspired many to take part.
KAZULO CHILDREN'S  MONTHLY
Raknno, as a memorial  of  its achieving 60 years of  existance, had begun publishing 'Kazulo' an independent Konkanni Magazine meant exclusively for the children.  It presented informative and entertaining reading as per the taste of the children in the form of stories, fun pages, cartoon stories, quizzes, competitions, etc.   It also organized Children's' Fiestas (KAZULO POROB) for quite many years, in different localities of Karnataka and Kerala states, having joined hands with the local institutions and people. It had completed 20 years of its existance (1998-2017 March.) at the time of the closure of its publication. Then on, to serve its purpose, in Raknno itself a special page is alloted for the children .
CONTACT DETAILS
Tel.: 0824-2444118, 2422426  Mobile: 9481760836 Email: raknno@gmail.com
Raknno Weekly, Kodialbail P.O., Mangalore 575 003.  Website:www.raknno.com
*****